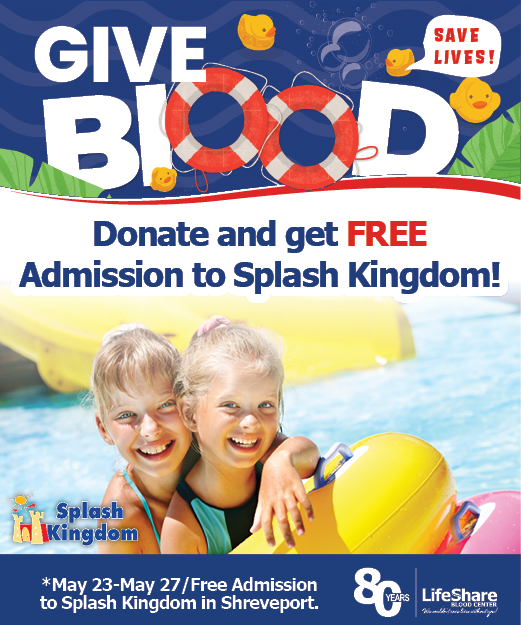 Blood Donors get FREE admission to Splash Kingdom!
SHREVEPORT, LA – Donate blood and take a dip at Splash Kingdom in Shreveport! Now through Friday, May 27th Ark-La-Tex blood donors will receive a free admission voucher to Splash Kingdom, just in time for Memorial Day weekend!
LifeShare Blood Center is partnering with Splash Kingdom – Oasis in Shreveport to thank donors for answering the call to donate blood. Donors will receive a voucher for free admission to Splash Kingdom in Shreveport and a LifeShare donor t-shirt, when donating blood now through Friday, May 27th, at a participating LifeShare donor center, or at any Ark-La-Tex mobile blood drive.
The blood LifeShare supplies to area hospitals helps treat patients who are undergoing treatment for cancer, heart disease, and blood disorders.
Donors are encouraged to donate by Friday, May 27th to receive a free admission voucher to Splash Kingdom in Shreveport, and a LifeShare t-shirt. To schedule an appointment please visit: www.lifeshare.org
Participating donor centers include: Shreveport, Bossier, Texarkana, Monroe, El Dorado, and Alexandria.
LifeShare also continues to reach out to businesses and churches to try to schedule blood drives. Young donors are also being asked to give. The number of young donors has dramatically decreased since the outbreak of COVID-19. To inquire about scheduling a blood drive please email: volunteer@lifeshare.org.
LifeShare continues to practice social distancing at all blood drives, including additional space between donor beds, enhanced and more frequent cleanings, and the use of masks by all staff working with donors.