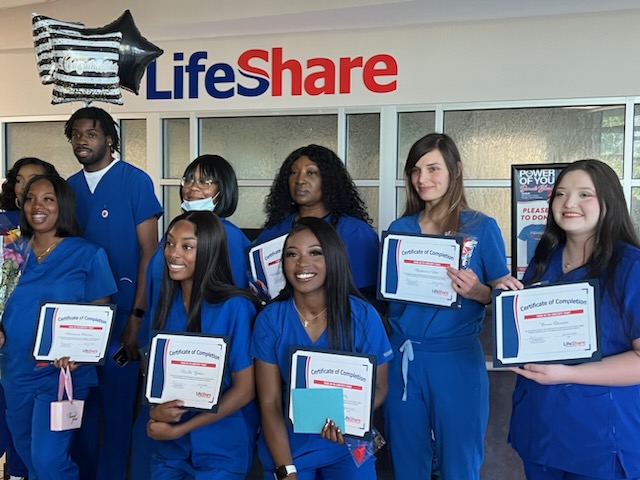 For a limited time, $1,000.00 Scholarships available.
Winter Class Session: March 13th
The Phlebotomy program at LifeShare Blood Center provides comprehensive and in-depth training in all aspects of phlebotomy: blood collection techniques, blood components, history, terminology, quality systems, hospital and blood center settings, and professional demeanor. The Phlebotomy program is a 6-week course offered several times per year. Graduates of the program are awarded a certificate of completion and are eligible to take a national certification examination for phlebotomy. Please see the answers to the Frequently Asked Questions below for additional information.
| | | |
| --- | --- | --- |
| CLASS | DATES | GRADUATION |
| Winter | Jan 16, 2023 | Feb 24, 2023 |
| Winter 2 | March 13, 2023 | April 21, 2023 |
| Spring | May 8, 2023 | June 16, 2023 |
| Summer | July 3, 2023 | Aug 11, 2023 |
| Late Summer | Aug 29, 2023 | Oct 6, 2023                  T–F , 10:00 am – 3:00 pm. |
| Fall | Oct 23, 2023 | Dec 1, 2023 |
Phlebotomy Program Application
Phlebotomy Program Handbook
Phlebotomy School Frequently Asked Questions (FAQ)
Who is eligible to apply to the Phlebotomy Program?
Eligible student candidates have either a high school diploma or GED.
Who is eligible to apply to the Phlebotomy Program?
Eligible student candidates have either a high school diploma or GED.
When and how can I apply?
Applications may be submitted at any time and must be received at least 4 weeks prior to the start date of the course. An application may be printed from this link and mailed in, or completed electronically and submitted to phlebotomyschool@lifeshare.org.
Can I get a job as a phlebotomist after I finish the program?
Each student has the ability to apply for available positions at hospitals, clinics, and blood centers.
What supplies do I need for this program?
Each student needs to have a laptop.
What does the Phlebotomy Program cost?
Tuition for the program is $2000 plus $150 for McGraw Hill Learning Platform, due 2 weeks before the first class session.
How long does the program last?
The program lasts 6 weeks and uses a combination of classroom instruction, homework, practicums, quizzes, and exams.
What are the requirements to complete the program?
LifeShare Phlebotomy students will successfully complete clinical, technical, and professional tasks assigned and will maintain at least a 75% average for chapter and final exams. As part of the course requirements, each student is required to bring in volunteers on whom they can perform capillary and venipuncture procedures. Additionally, students are expected to perform these procedures on each other.
Can I reenter the program if I have to withdraw?
If you must withdrawal from the course, you may be able to rejoin a future course session to complete the program.
Is there a certificate after successful completion?
Yes, graduates of the program are awarded a LifeShare certificate of completion.
What else is important to know?
The program is intended to be both challenging and rewarding. A successful participant must be self- motivated and ready to devote a significant amount of time to studying and completing all aspects of the educational courses. The orientation class is designed to provide instruction in how to complete the program as well as introduce participants to their classmates and LifeShare support personnel. LifeShare is committed to fostering a successful and supportive educational environment.
LA WorkForce Commission
To assist our students we have partnered with the Louisiana Workforce Commission's WIOA program for financial assistance for those who may qualify.
Application with WIOA must be made 30 days out from date of class to ensure completion of the process.
CADDO AMERICAN JOB CENTER
Shreveport residents apply online at: https://shreveportla.seamlessdocs.com/f/WIOA71_PreApplication
If you are not a resident of Shreveport and live in the following parishes: Balance of Caddo (Blanchard, Belcher, Mooringsport, Greenwood, Vivian, Oil City, Rodessa, Ida, Hosston, Gilliam) Bossier, Bienville, Desoto, Red River, Lincoln, Natchitoches, Sabine or Webster parishes apply with The Coordinating and Development Corporation (CDC) online at: https://www.cdconline.org/wioa-pre-app
Who is Eligible:
To qualify for WIOA Adult, an applicant must:
Be a resident
Be a U.S. Citizen
Be 18 or older
Have a High School Diploma, GED, HiSET, or the equivalent.